American DJ DUAL GEM PULSE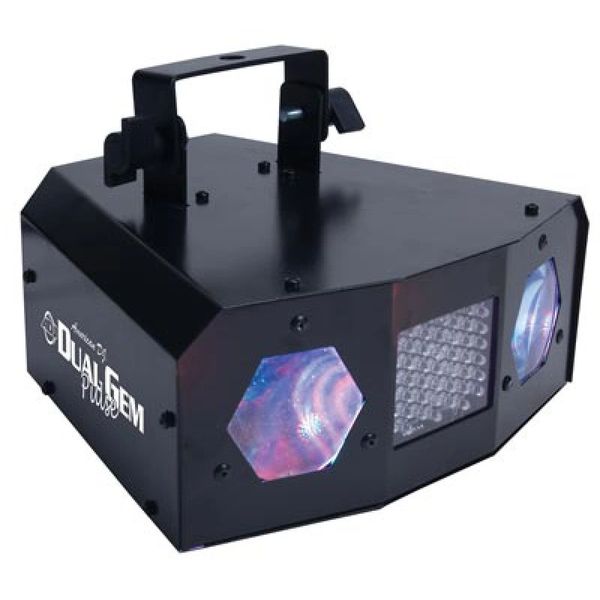 American DJ DUAL GEM PULSE
Bring your DJ entertainment setup and party to the next level with the Dual Gem Pulse from ADJ. Utilizing two lenses the Dual Gem Pulse offers you the ability to project strobe effects and a Moonflower effect on the wall or dance floor. With a wide beam spread and angle you can cover a large area with this compact device. With Sound Active mode and built-in programs, set-up and synchronization is easy. Set yourself apart with this LED light entertainment unit as you get people grooving to your music. With its low weight, very low power consumption and long life LEDs you'll save money on the road, at home, or at your bar or club. It's time to amp up your entertainment system with the ADJ Dual Gem Pulse, liven up your nights with LED lights.

Specifications
LED Dual Lens Moonflower with sharp Red, Green & Blue high output colored beams + LED Strobe in one light

LEDs: 32 Red, 30 Green, 30 Blue, 45 White (strobe)

On/Off Switch to control strobe effect

Produces LED patterns that can be projected on a dance floor or wall

Wide beam spread covers a large area

Beam Angle: 32 degrees

Sound activate beams from built-in programs

Rich, saturated colors that will not fade

Very low power consumption

No moving parts

Runs extremely cool! - NO Duty Cycles! - Run all night!

Razor sharp beams

Includes hanging bracket

Extreme long lifetime of the LEDs (100,000 hr. rating)

Power Consumption: 17W maximum

Switchable voltage on rear panel: 115V or 230V (IEC plug)

Dimensions (LxWxH): 9.25"x 11"x 6.25" / 233x278x155mm

Weight: 7 lbs. / 3 kgs.