American DJ INNO-SPOT-ELITE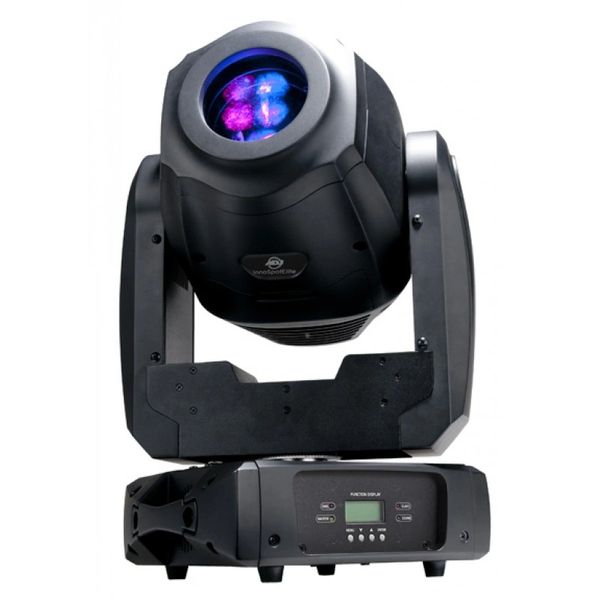 American DJ INNO-SPOT-ELITE
ADJ's Inno Series of Intelligent lighting fixtures continues to push the boundaries of LED technology with a reputation of professional features and reliable performance.

The Inno Spot Elite is an Intelligent Moving Head with a super high output 180W (8,000K) LED engine. Professional grade features include: Motorized Focus, Motorized Iris, 3-Facet rotating Prism and 6 quality glass GOBOs. The output of the Inno Spot Elite is designed for large productions and events, large nightclubs and large churches.

There are 8 colors + spot and 7 rotating replaceable gobos + spot on the Inno Spot Elite. 6 of the GOBOs are glass and 1 is metal. The beam angle is 19-degrees. Its hard edge beam is similar to a traditional halogen or discharge lighting effect with a fraction of the power draw (197W) or the hassle of changing out light bulbs (LED source rated at approximately 50,000 hours).

Specifications
High output Intelligent Moving Head with a bright white LED source

8 Colors + Spot

7 rotating, replaceable gobos + spot

6 Glass and 1 Metal Gobo

3 Operational modes: DMX-512, Sound Active or Show Mode

Separate color & gobo wheels

Gobo scroll mode

Motorized focus & Iris

19-degree beam angle

15 DMX channels

4-button DMX LCD display

4 Built-In show modes

Gobo Shake effect

6-facet rotating prism effect

Gobo size: 27mm

(22mm viewable / 0.2mm thickness for metal gobo, 1.1mm thickness for glass gobo)

540° pan / 270° tilt (16-bit)

Fine Pan /Tilt

Shutter: Pulse effect; random strobe slow to fast

Dimming: 0% - 100%

Fan Cooled

Stepper motors with micro stepping

Omega Clamp Included

Linkable: DMX via 3-pin XLR cable; Power via IEC daisy-chain power link

(Up to 2 Inno Spot Elite's @ 120V, 4 Inno Spot Elite's @ 220V fixtures)

Compatible with the ADJ UC3 Series easy-to-use controllers (sold Separately)

Power consumption: 197W (Full on)

Multi-voltage Operation: AC 100 - 240V, 50/60Hz

LED Source: 180W White LED source, 8000K (Rated at approximately 50,000 hrs)

Lux @ 3M: 4840 Lux

Dimensions (LxWxH): 13.25" x 13" x 20.75" / 333 x 328 x 526mm

Weight: 29 lbs. / 13 kgs.