American DJ INNO-SPOT-LED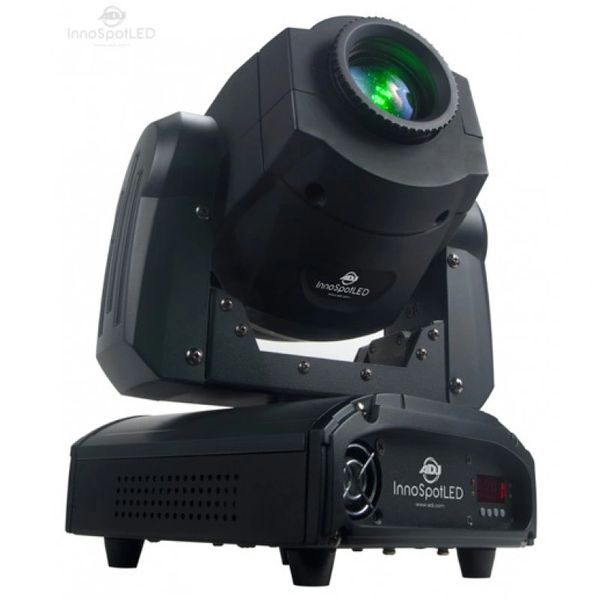 American DJ INNO-SPOT-LED
The ADJ Inno Spot LED is a lightweight, powerful fixture that is compact and extremely mobile. The Inno Spot LED offers professional features and a reliable performance that is evident in ADJ's other professional lighting products. The 8 colors + Spot, 7 rotating and replaceable gobos, 19 degree beam angle and the separate color and gobo wheels let you customize your light show for any venue or event. Get more area coverage and stunning visual effects with its 3 facet prism. Made with the highest quality plastics and components, you are sure to get a long useful life out of this fixture. With its built in light shows the Inno Spot LED has capabilities to be used in Sound Active mode or linked in Master/Slave mode. This light has no duty cycle so feel comfortable running all night long and with its LED light source, the ADJ Inno Spot stays cool all night. The Inno Spot LED is compatible with the ADJ UC3 Series easy to use controllers as an additional control option. Let your guests dance the night away in the lights of the Inno Spot LED Today!

Specifications
High output Intelligent Moving Head with a bright 50W white LED source

8 colors + white

6 rotating, replaceable gobos + spot

Separate Color & Gobo Wheels

Gobo scroll mode

17-degree beam angle

Auto X-Y repositioning

10 DMX Channels

3 Operational modes: DMX-512, Master/Slave & Sound Active

4-Button menu system LED Display making it easy to navigate

Built-in lighting programs

Gobo Shake effect

3-facet prism

Gobo size: 23.8mm (19mm viewable / 0.2mm thickness)

540° pan / 270° tilt (8-bit)

Manual Focus

Shutter: Pulse effect; random strobe slow to fast

Dimming: 0% - 100%

Fan Cooled

Stepper motors with micro stepping

Compatible with the ADJ UC3 Series easy-to-use controllers (sold Separately)

Runs extremely cool! - NO Duty Cycles! – Run all night!

Power consumption: 93W

Switchable voltage: (120V/60Hz or 230V/50Hz)

LED Source: 50W White LED source (50,000 hour rated)

Dimensions (LxWxH): 9.75" x 8.25" x 11.25" / 242 x 205.8 x 284.6mm

Weight: 15 lbs. / 6.5 kgs.