Fostex PM0.1 Personal Active Speaker System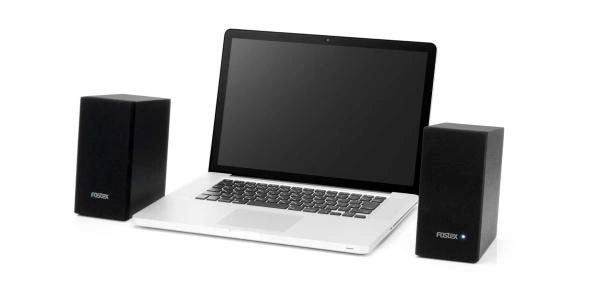 Fostex PM0.1 Personal Active Speaker System
The model PM0.1 has been developed to meet demands for smaller enclosures to be placed next to your laptop or tablet without sacrificing audio quality.
Starting 10 years ago with the PM0.5 and PM0.4 designed for personal recording studios, the PM-series lineup now has every base covered with models featuring driver sizes from 8-inch to 3-inch including the latest model PM0.3/0.3d which delivers superior sound from your PC or portable audio player with ease.
(Laptop not included)
In Detail
2.2-inch full range driver with fiberglass diaphragm for clear sound reproduction

Wooden enclosure boxes common to all the PM-series products for natural sounding

Rear bass reflex enclosure boxes to reproduce well-balanced low frequencies

5W + 5W stereo power amplifier on the right enclosure box to drive both Left and Right speakers

Three color choices of the front baffle; black, gray or white

Automatic energy saving function puts the PM0.1 into sleep mode consuming only 0.5W or less after approx. 15 min. of no signal input

Easy combination with model PM-SUBmini (announced separately) to add extra lower bass for movies and live music performance videos playback.
- See more at: http://www.fostexinternational.com/docs/products/PM0.1.shtml#sthash.n1c0ezof.dpuf

**Price is per pair; 2 speakers in one box.