Microh LED Arena 150 Follow Spot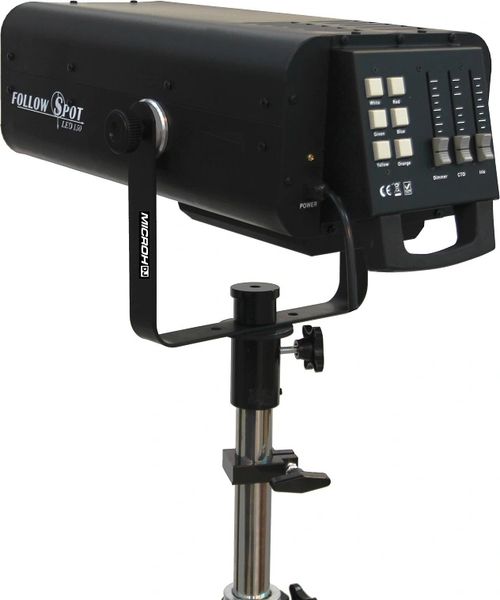 Microh LED Arena 150 Follow Spot
The LED ARENA 150 is a high output LED Follow Spot. This unit has high grade optics to allow it to deliver output brighter than a discharge 575 unit. The compact design allows the user to easily control the unit. Ideal for Small Theaters, Schools and Small Stage Shows. Comes with stand.
Light Source: 150W White LED
Lamp Life: 20,000 Hours
Beam angle: 12°
Iris: 5-100% linearly adjustable
Focus: Manual focus
Dimmer: 0-100% linearly adjustable
One Color wheel with 6 colors( white+ red+ green+ blue+ yellow+ orange )
One CTO: Color temperature filter, 6500K,4500K,3200K
Housing: Compact housing with lower weight.
Control panel with bottoms and faders
Output distance: 40m
Voltage: AC90-240V, 50/60Hz, 200 Watt
Dimension: L530 x W325 x H190 (mm)
Weight (not including stand): 11kg