Pioneer CDJ-2000 Nexus Advanced multimedia player (black)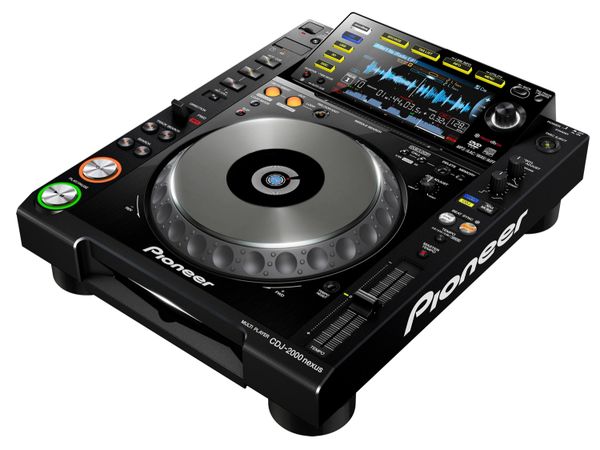 Pioneer CDJ-2000 Nexus Advanced multimedia player (black)
Music stored inside Wi-Fi/USB-connected iPhone/iPod touch/iPad devices can be transmitted to the "CDJ-2000NXS" using the iOS version of "rekordbox™" (available on the App Store free of charge) for DJ play. The touch panel displays of iPads, etc. can be used for intuitive music selection with controls that users will already be familiar with. In addition, the enclosed Mac version of "rekordbox™" can be used to send music to the "CDJ-2000NXS" from inside a Wi-Fi-connected Mac. Also, when connecting via USB, the device can be charged during DJ play. Android OS devices can send music via Wi-Fi/USB connections using the Android version of "rekordbox™" (available on the Google Play free of charge), and music can also be transmitted from Windows PCs via Wi-Fi connections using the enclosed Windows version of "rekordbox™".

Music files can be analyzed with "rekordbox™" installed on a computer, music can be managed (settings, create/edit, save logs) in a manner that is suitable for DJ performances, and the music to be used can be prepared in advance.

By connecting multiple players (up to 4 units) with LAN cables, various new functions have been added to expand the scale of DJ performances alongside the existing content-sharing functions.

The "CDJ-2000NXS" adopts a large 6.1-inch full-color LCD to clearly display information that is required when performing DJ play. Music artwork and large quantities of music information are displayed in lists, and the intended music can be found easily and intuitively. In addition to the existing "WAVE" display that provides a visual understanding of all music, "WAVE ZOOM" makes it possible to instantly grasp the preceding music development by displaying waveforms that can be expanded/minimized to five different levels color-coded according to bandwidth.

The "SLIP MODE" function keeps music moving in the background during LOOP/REVERSE/SCRATCH/ HOT CUE/PAUSE. This makes it possible to produce bold musical arrangements without changing the progress of the original music even after these functions have been used.

A new algorithm has been adopted to deliver sound quality that is more faithful to the original tone, even when there are drastic shifts in tempo during playback of wide-ranging music. This enables high-quality mix playback even when there is a big difference in track tempo.

For more details visit: http://pioneerdj.com/english/products/player/cdj-2000nxs.html