Pioneer DDJ-T1 DJ Controller for Traktor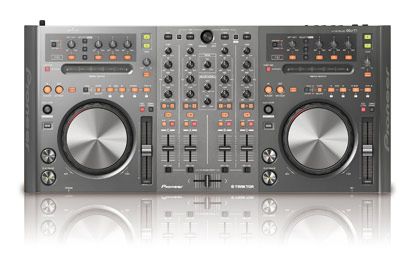 Pioneer DDJ-T1 DJ Controller for Traktor
Plug-and-Play USB Connectivity with 4-channel deck control

TRAKTOR 2 DJ Software Included

Durable Construction Design w/ laptop dock

Highest-Quality Sound
The DDJ-T1 easily connects with a user's laptop via USB for quick "plug-and-play" capability. For further convenience, the controller also comes with a computer dock that allows a laptop's keyboard to slip directly under the controller, bringing the monitor closer to the DJ, providing fast visuals of song information while mixing. The device adopts Pioneer's "P-LOCK Fader Cap," designed to prevent the fader caps from slipping.

Key Features Include:
Plug-and-Play USB Connectivity – All buttons and knobs have been pre-assigned, so users can quickly connect the controller to their laptops by USB cable and start their performances without having to adjust any complicated settings. Additionally, the DDJ-T1 can be powered through the laptop's USB port.
Included TRAKTOR DJ Software – Includes Pioneer DDJ-T1 Edition TRAKTOR 2 DJ software. This popular software is loaded with original functionality, including four-channel deck control and a channel fader start function, which makes it easier for DJs to create exact cue starts.
Specially Designed User Interface – The controller layout and TRAKTOR software interface are identical, ensuring ease-of-use and precise control. The DDJ-T1 is modeled after the proven design of the professional Pioneer DJ player and mixer and integrates 115mm jog dials, accurate search functionality to quickly find playback points, a load button for song data and a master synch button for beat matching across four channels.
Highest-Quality Sound – The controller is optimized for the TRAKTOR DJ software and incorporates technology from Pioneer's professional line of DJ equipment to ensure the highest quality sound output that DJs have come to expect from Pioneer products.
Additional Features include:
1. Proprietary lock mechanism called the P-LOCK Fader Cap designed to prevent fader caps from slipping.
2. Premiere built-in sound card