Pioneer DJM-900SRT 4-channel professional DJ mixer with integrated Serato (black)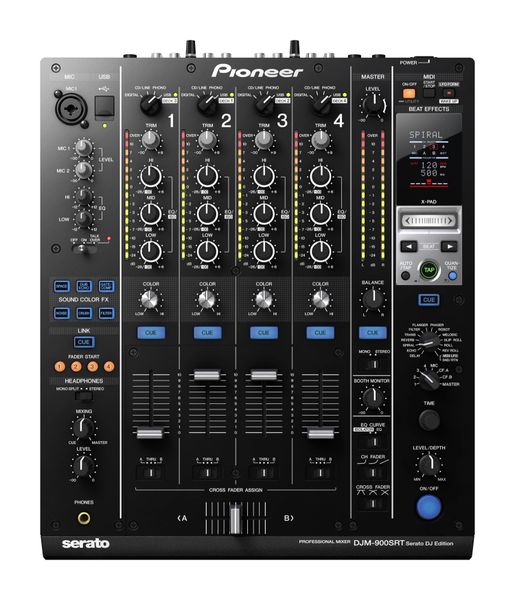 Pioneer DJM-900SRT 4-channel professional DJ mixer with integrated Serato (black)
The DJM-900SRT is equipped with an internal Serato certified sound card. The included CONTROL DISC for CD or VINYL enables mixing and scratching with up to four CDJs or turntables without the need for external hardware.

The DJM-900SRT puts six mind-bending Sound Color FX at DJs fingertips. The mixer boasts 13 channel assignable BEAT FX to mash up the music in sync with the BPM for ultimate control. The DJM-900SRT is equipped with in intuitive X-PAD, a touch-sensitive strip that allows DJs to simultaneously engage BEAT FX while adjusting the parameters

The DJM-900SRT is equipped with the same high-quality audio input and output circuits as Pioneer's flagship DJM-2000NXS. A 32-bit A/D converter digitizes and enhances sound quality for all outputs, while the 32-bit digital signal processor (DSP) suppresses digital noise. Even analogue noise is reduced, through balanced hybrid operation amps and output circuits.

The DJM-900SRT is perfect for tough club environments, thanks to two metal shafts supporting the fader knobs and an exclusive magnetic cross fader construction that can be used more than 10 million times – nearly three times more than the DJM-750. The fader mechanism is positioned to one side, rather than directly beneath the fader faceplate opening, minimizing the damage from liquid or dust getting inside, while the Pioneer P-LOCK Fader Caps are impossible to pull off in the heat of a mix.

For more details visit: http://pioneerdj.com/english/products/mixer/djm-900srt.html