Pioneer XDJ-1000 Multimedia player with large color LCD display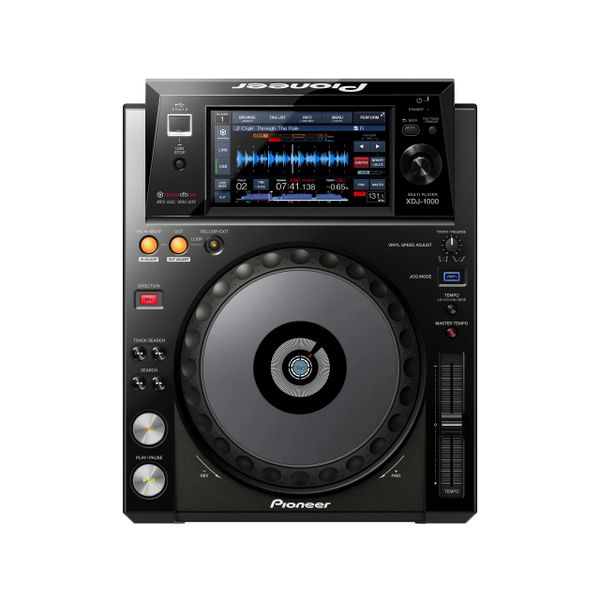 Pioneer XDJ-1000 Multimedia player with large color LCD display
Digitally focused player with a large touch screen and performance features inherited from Pioneer's professional set-up.
The 7-inch, full color LCD touch screen gives DJs instinctive control and enables the ultimate creativity. The GUI is divided into three sections: Browse, Play and Perform, so DJs can effortlessly see and access all the features they need, without the screen being over-crowded.
The Browse function is speedier than ever, with the ability to call up a Qwerty keyboard and search for keywords, and scroll using the touch screen or large rotary dial. Plus DJs can choose how they view tracks: list, artwork, or custom view.
Professional features including the NEW Quantized BEAT JUMP/ LOOP MOVE
DJs can analyze their tracks in rekordbox and the XDJ-1000's large touch screen will display a host of information to aid DJing
DJs can chose their personal preferences in rekordbox – including QUANTIZE ON/OFF and MASTER TEMPO ON/OFF – and the XDJ-1000 will automatically download them.
Plus DJs can color code their playlists in rekordbox, e.g. red for techno or blue for drum & bass, and the light around the USB port will reflect that setting for ease of identification in the booth.
The XDJ-1000 mirrors the layout of the club standard CDJs, so DJs can perfect their sets at home and move effortlessly to the booth to perform.
The 206 mm jog wheels are the same size as those on the CDJ-2000NXS, for instant familiarity wherever a DJ plays.
For more details, visit: http://pioneerdj.com/english/products/player/xdj-1000.html