Presonus StudioLive 24.4.2AI 24 Channel Digital Mixer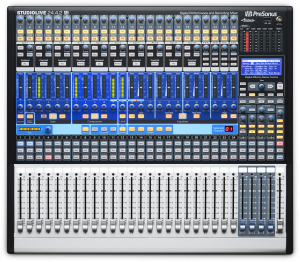 Presonus StudioLive 24.4.2AI 24 Channel Digital Mixer
When PreSonus designed StudioLive mixers, we wanted to combine the ease of a surface-driven analog workflow with the power of digital mixing. What's more, we wanted to deliver it a price that anybody could afford. The StudioLive 16.4.2 and 24.4.2 revolutionized the way modern mixing is done by incorporating a powerful, continuously bidirectional audio interface, tons of DSP horsepower, and the flexibility to mix your show and your monitors from anywhere in the venue. The new generation of StudioLive AI mixers builds on the legacy of their predecessors, adding even more processing, 96 kHz support, and a level of software integration only found in high-end touring consoles.

When you're mixing a live event or have an artist in the studio, you need to be able to work quickly. Unique to the StudioLive design is its familiar interface that keeps all critical controls visible and accessible —not buried in multiple menus or layers. Our design philosophy is simple: One fader for every channel, one output for every bus. This is the power of a surface-driven workflow. But don't let the analog feel fool you: StudioLive mixers provide total recall and a unique soft-takeover feature that makes each fader active the moment its position has been recalled.

StudioLive AI-series mixers start with all the strengths that made StudioLive mixers famous. Then we pushed the technology to the next level with Active Integration™ (AI). Each Active Integration component is designed to communicate with the entire networked system and provide a focused workflow for the task at hand. This allows you to use the device most suited for what you are doing, when you are doing it: Ring out monitors with your iPad while you're standing in front of them; dial in your musicians' monitor mixes from the stage with an iPhone and then hand it off for them to control; and view the frequency content of channels and buses while you EQ them. That's just the beginning!

For more details visit: http://www.presonus.com/products/StudioLive-AI-Series
Get a free PRM-1 measurement with purchase of this console by July 31st, 2015.