American DJ LED Pixel 4C Driver/controller for LED Pixel Tube 360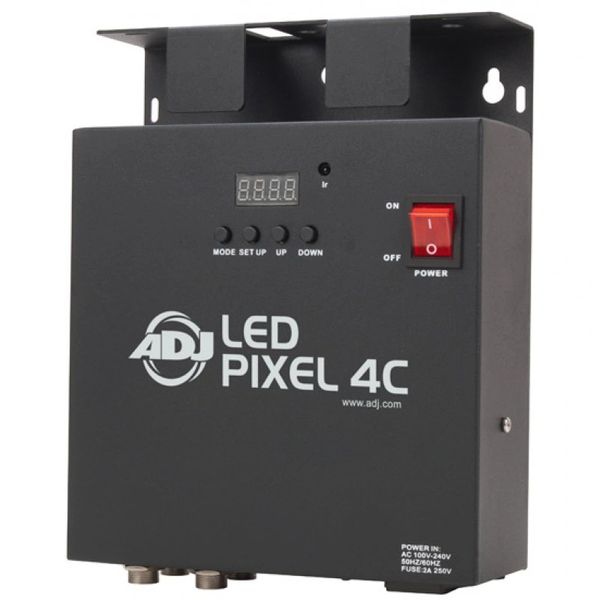 American DJ LED Pixel 4C Driver/controller for LED Pixel Tube 360
The 4-Channel Controller for the LED Pixel Tube 360 made by ADJ is the number one tool for a musician or DJ that wants manual control of their light show. There are 24 built in programs and it is sound activated too. For even larger displays that will be out of this world, you can daisy chain the 4-Channel Controller to another 4-Channel Controller. Also for your convenience ADJ has built in a reversible, hanging/truss bracket just to make your life a little easier. In addition to the 4-channnel driver/controller you can purchase the ADJ RC wireless remote control so that you can control the display from anywhere.        

ADJ's 4C Driver/controller for the LED Pixel Tube 360 will give you the light display that you are looking for with the capabilities of having 360 degrees of bright LED light tubes hanging all around the stage with 64 bright TRI LEDs.  This is the way to rock out!

Specifications
 4-Channel Driver/Controller for LED Pixel Tube 360

 Great for the Musician or DJ that wants manual control of his light show

 Linkable via 3-pin XLR cable In/Out to other LED Pixel 4C

 24 built-in programs

 4 DMX Channel Modes (5, 7, 14 & 192 Ch.)

 Sound Active

 DMX-512 Protocol

 Electronic Dimming: 0 - 100%

 4-button LED display

 Built-in, reversible, hanging/truss bracket

 Compatible with ADJ LED RC wireless remote control (sold separately)

 IEC AC Power In/Out on rear to daisy chain power (Power connect up to 8 LED Pixel 4C)

 Low Power Draw: 72W max

 Multi-voltage Operation: AC 100 ~ 240V, 50/60Hz 

 Dimensions (LxWxH): 10.25" x 8" x 3.25" / 259 x 200 x 80mm

 Weight: 5 lbs. / 2 kg.