American DJ MEGA GO BAR50 RGBA LED bar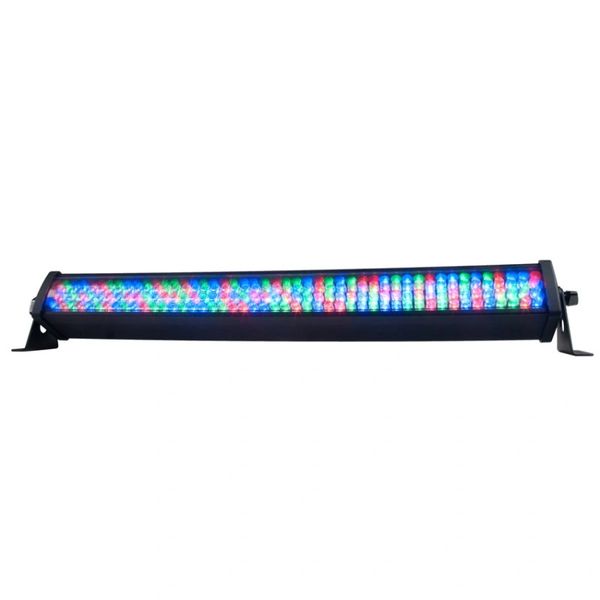 American DJ MEGA GO BAR50 RGBA LED bar
If you want to have to create the proper experience for your audience or crowd you need lighting fixtures you can trust to produce high quality light, be easily controllable with lots of features, and be durable and portable so you can take it anywhere and know it's going to last for years to come. With the Mega GO Bar 50 RGBA LED Bar Fixture from ADJ you can create the perfect atmosphere anywhere you need to with the added benefit of battery operation capabilities. Ample and  well controlled lighting is key to an easily enjoyed performance; the Mega GO Bar 50 excels at providing you with powerful light effects with built-in features that allow for the greatest ease of operation. 

Made from high quality materials and using 50,000 hour LEDs and a rechargeable lithium battery for power cable free operation, the Mega GO Bar 50 is built to last and make take down and set-up quick and efficient. Now you can create the mobile professional setup of your dreams, with the portable lighting services of the Mega GO Bar 50 RGBA LED Bar Fixture from ADJ, the perfect blend of quality and convenience.

Specifications
 Rechargeable Lithium battery powered, 24-inch/ 0.6 meter ultra bright, indoor LED Linear Fixture with 141, 10mm LEDs (23 Red, 48 Green, 47 Blue & 23 Amber LEDs)

 7 DMX Channels: 1, 2, 4, 5, 6, 7 & 8 channels

 5 operational modes: Auto (Program Run), Sound Active, RGBA Dimmer, Static Color and DMX-512 Mode

 Great as an architectural wall wash or for performance stages washing 

 Smooth RGBA color mixing with rich palettes of color created by mixing the Red, Green, Blue & Amber LEDs (fast or slow color change operation)

 Rechargeable Lithium battery built-in to fixture

 Flicker Free

 47 built-in Color Macros

 LED pulse & strobe effect

 DMX-512 Protocol

 Electronic Dimming: 0 - 100%

 Beam angle: 30-degree

 Linkable via 3-pin XLR cable

 4-button LED display on rear panel

 IEC AC Power In/Out on rear to daisy chain power (Up to 25 Mega Go Bar 50 RBGA's)

 Compatible with ADJ RFC remote control up to 30 ft./ 10M (sold separately).

 Long life LEDs (Rated at approximately 50,000 hrs.)

 Low power consumption

 Very low heat output

 Run all night – No duty cycle

 Rechargeable Lithium battery life: 8 hours full on (with a full charge); 6.5 hours charge time

 Power Draw: 25W max

 Multi-voltage Operation: AC 100V/60Hz - 240V/50Hz 

 Dimensions (LxWxH): 24.75" x 2.75" x 3.5" / 625x65x88mm

 Weight: 5 lbs. / 2.2 kg.