American DJ Micro 3D laser effect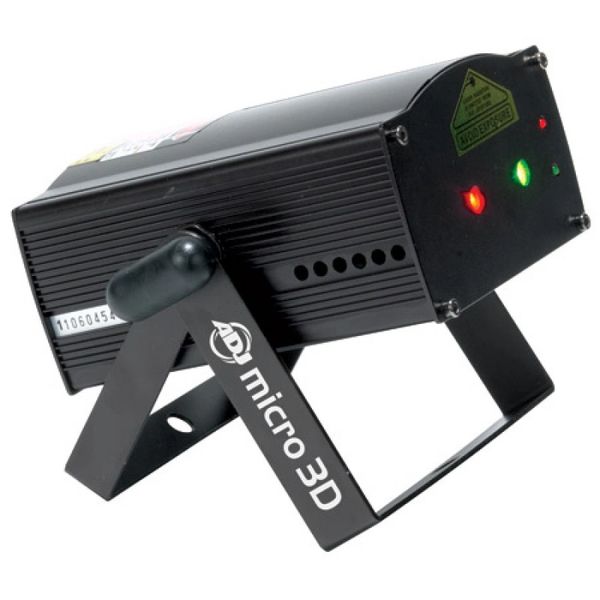 American DJ Micro 3D laser effect
Want to be able to create light shows in your home or for you mobile DJ set? The Micro 3D from ADJ has all the features you need to create a laser light spectacle while only weighing 2 pounds and still being of quality metal construction. You can take this device anywhere it needs to go and never rack up an electrical bill as it only draws 9 Watts of power. People love lasers and people love to dance, combine the two and you'll be host people love the most. Enhance your home set-up even further by combining the Micro 3D with a fog machine to make your light show all the more dynamic. You'll be amazed by what you can achieve with a lighting unit you can fit in the palm of your hand, ADJ's Micro 3D brings the future of lighting everywhere you need it to be.

Specifications
Produces more than 200 green and red laser beams that rotate back and forth creating amazing effects that can be projected on a ceiling, wall or dance floor

Compact case design

2 operational modes: Auto Mode (built-in programs), or Sound Active Mode

Built-in programs can be changed with a push of a button on the unit or from the RF wireless remote

Includes dual hanging bracket

Complies with FDA standards

Fan cooled

Power consumption: 9W max

Green Laser: 30mW (532nm) Green laser

Red Laser: 80mW (650nm) Red laser

Includes UL Listed multi-voltage power supply: AC 100-240V, 50/60Hz

Includes RF Wireless Remote Control [Auto/Sound Control; Black Out; Color Change (R, G, R+G, Random); Rotation Control (Clockwise/Counterclockwise/Random)]

Dimensions (LxWxH): 6"x4.75"x2.5" / 149x110x60mm

Weight: 2 lbs. / .8 kg.