American DJ Micro Hypnotic laser effect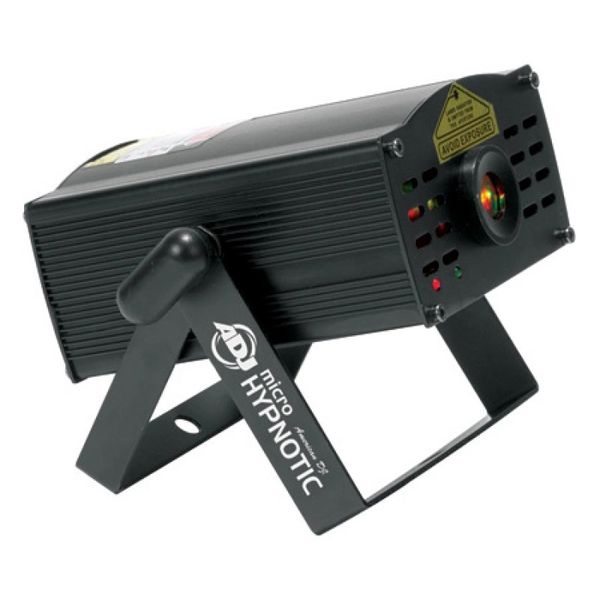 American DJ Micro Hypnotic laser effect
Truly amaze your crowd with the unique laser lighting effects offered by ADJ's Micro Hypnotic. Your guests will be dancing in no time with this lighting unit that's extremely portable and easy to set up. You'll be amazed at the quality of construction and light effect production you get from a unit that weighs a mere two pounds (0.8 kg). You get all its amazing features at a low price, coupled with a low power draw, you won't have to break the bank to put on the lighting shows that you need to stand out. With the Micro Hypnotic from ADJ you'll be running a light show production that can put your party or DJ show on the map. Be bright, light up your night with the Micro Hypnotic.

Specifications
Unique mini laser that projects red and green "web type" patterns

Laser patterns can be projected on a dance floor, ceiling or wall

Compact case design

2 operational modes: Auto Mode (built-in programs), or Sound Active Mode

Built-in programs can be changed with a push of a button on the unit or from the RF wireless remote

Includes dual hanging bracket

Complies with FDA standards

Fan cooled

Green Laser: 30mW (532nm) Green laser

Red Laser: 80mW (650nm) Red laser

Includes UL Listed multi-voltage power supply: 12V DC 100-240V, 50/60Hz

Includes RF Wireless Remote Control [Auto/Sound Control; Black Out; Color Change (R, G, R+G, Random); Rotation Control (Clockwise/Counterclockwise/Random)]

Dimensions (LxWxH): 6"x4.75"x2.5" / 149x110x60mm

Weight: 2 lbs. / .8 kg.