American DJ Quad Gem DMX LED lighting effect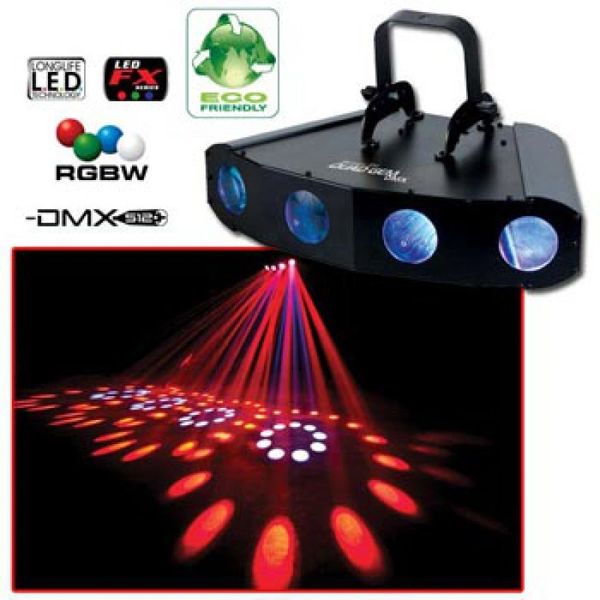 American DJ Quad Gem DMX LED lighting effect
Using LED Technology and a special glass optical system this American DJ LED Moonflower effect produces sharp red, green, blue and white beams of light - a spectacular light show that could not be produced with traditional halogen Moonflowers. The Quad Gem DMX 4-head LED offers many great features that are included like the sound active built-in programs.

Along with the moonflower effect an option to have a slow or fast strobe running is an option as well. Use it at parties to create the ultimate light show experience. With the wide beam spread you will have no problem covering large areas. The Mystic LED can also be ran all night and will run extremely cool, due to it having no duty cycles.

High quality, durable material and high output lens technology separates the Quad Gem DMX from other lighting units. Daisy-chain 4x Quad Gem DMX lights to a Quad Array BR for an amazing synced light show. Great for weddings receptions, parties, night clubs, and bars. Having the Quad Gem DMX in your lighting arsenal will set your show apart from all other DJs.

Specifications
4-head LED Moonflower effect with sharp Red, Green, Blue and White high output color beams

224 LEDs (80 Red, 60 Green, 48 Blue & 36 White LEDs)

Output similar to quad 250W Halogen lamps (based on visual side-by-side comparison with halogen fixture)

Produces LED patterns that can be projected on a dance floor or wall

DMX-512 protocol

4 or 7 DMX Channel modes

3 operational modes: Sound active with built-in programs; DMX Controller or UC3 Universal Controller

Electronic dimming: 0 - 100%

Fast to slow Strobe

Wide beam spread covers a large area

Sound active from built-in programs

High output with new lens technology

Very low power consumption

Extreme long lifetime of the LEDs (100,000 hr. rating)

Includes hanging bracket

Multi-voltage switch (120V or 230V)

Power consumption: 34-Watts

Dimensions (LxWxH): 18.75"x 15.5"x 4" / 473x279x103mm

Weight: 11 lbs. / 5 kgs.