American DJ Quad Phase LED lighting effect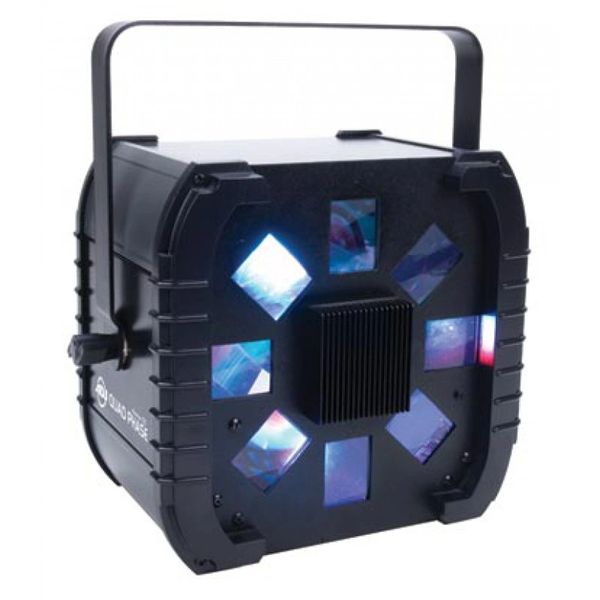 American DJ Quad Phase LED lighting effect
American DJ's Quad Phase is designed to fill a room and dazzle a crowd with it's 160 razor sharp beams of light. This device is perfect for clubs, wedding receptions, parties, or dance stages. This technologically advanced moonflower features a homogenized 10W 4-in-1 quad color LED source (RGBW). Offering twice as many majestic colors as a "TRI LED", the Quad Phase produces up to thirteen colors in all.

Using a 1.8 Degree Long Life Stepper motor Technology it can produce quick accurate movement or smooth fluid move movements for mood music. Use one of the 4 DMX channels for a truly customized experience (Color, Rotation, Strobe, Shutter).

The Quad Phase also offers all the latest features sought after in special effects lights such as: DMX-512 for programming or linking capabilities, exciting built-in sound active programs, no duty cycle (run all night), a long life LED source (30,000 hours), 4-button DMX display on rear (for easier programmability), IEC power daisy-chaining, a 1.8 steeper motor for smooth movement and is compatible with ADJ's UC3 easy-to-use mini controller. Use the Quad Phase at your next gig and show off your superiority.

Specifications
High output Moonflower effect with revolutionary 10W Quad-Color LED 4-in-1 (Red, Green, Blue, White) technology produces color-changing beams of LED light

Produces 13 Colors: Red, Blue, Green, Purple, Yellow, Cyan, White,

Light Red, Light Blue, Light Green, Light Purple, Light Yellow, Light Cyan

160 razor sharp beams fill a dance floor, ceiling or wall

Using a 1.8 Degree Long Life Stepper motor Technology it can produce quick accurate movement or smooth fluid move movements for mood music

4 DMX Channels (Color, Rotation, Strobe, Shutter)

Operation modes: Sound Active, Master/Slave or DMX-512

Exciting built-in programs (Sound Active & Master/Slave modes)

Linkable via 3-pin XLR cable

4-button DMX display on rear panel

Beam Angle: 65 degree

Rich, saturated colors that will not fade

Low heat output

Runs extremely cool! - NO Duty Cycles! - Run all night!

Compatible with the UC3 easy-to-use controller (sold separately)

IEC IN/OUT on rear to daisy chain power (up to 12 Quad Phase)

Power Draw: 27W Max

Multi voltage: 100V~240V, 50/60Hz

Long life LEDs (30,000 hr. rating)

Light Source: 10W RGBW LED 4-in-1

Dimensions (LxWXH): 7.5"x12"x13.25" / 189x306x334mm

Weight: 9 lbs. / 3.8kg.

ETL approved (see user manual for more info)