American DJ WIFLY BAR QA5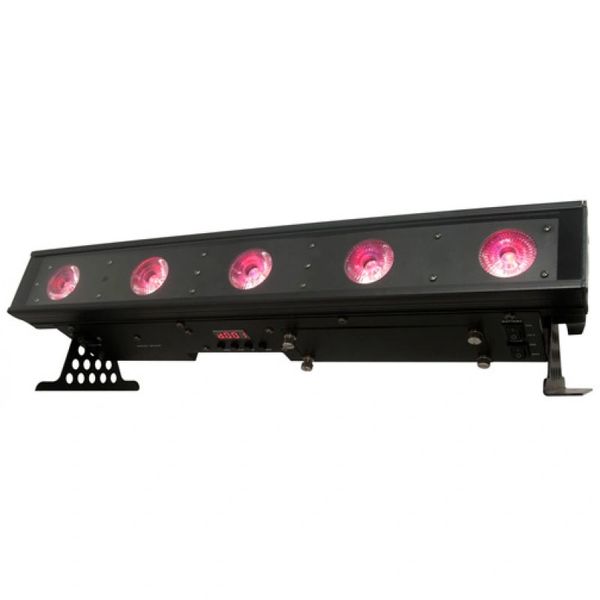 American DJ WIFLY BAR QA5
The ADJ WiFLY Bar QA5 is a Battery Powered Wireless Quad LED Linear Fixture with a built-in ADJ WiFLY Transceiver with wireless DMX. The rechargeable lithium battery is long lasting and safe to use. With a full charge you will receive up to six hours of life with five hours needed to fully charge it back to full life.
The WiFLY Bar QA5 allows you to create rich hues and smooth color mixing for stage or wall washing. You can get a wide range of colors on your wall and set the mood to whatever you wish. The fixture uses LEDs rated at 50,000 hours with a maximum power draw of 58W. The fixture operates on AC or DC power.
The Transceiver will communicate with any remote for up to 400 feet in an open line of sight. You can run the device in six operational modes, Auto with a Program Run Mode, Sound Active Mode, RGBA Manual Control Mode, Static Color Mode, Slave Mode, and a DMX-512 Mode. Light up an entire wall with rays of light in a seemingly unlimited color palette. Perfect for those parts of the stage or club where wiring and other ways for power are inconvenient or just unsafe.
Specifications
Rechargeable Lithium battery powered, with wireless DMX, 20-inch / 0.502 meter ultra bright, indoor LED Linear Fixture with 5 x 5W Ultra bright QUAD (RGBA: 4-IN-1) LEDs

6 DMX Channels: 4, 6, 7, 8, 9 or 22 channels

6 operational modes: Auto (Program Run) Mode; Sound Active Mode; RGBA Manual Control Mode, Static Color Mode, Slave Mode and DMX-512 Mode

Variable RGBA color mixing offers a seemingly unlimited color palette - Great for Stage or Wall Washing!

Rechargeable Lithium battery built-in to fixture

Flicker Free

48 built-in Color Macros

LED pulse & strobe effect

DMX-512 Protocol

Electronic Dimming: 0 - 100%

Beam angle: 25-degree

Linkable via 3-pin XLR cable

4-button LED display on rear panel

IEC AC Power In/Out on rear to daisy chain power (Up to 10 units)

Includes built-in ADJ's WiFly Transceiver Wireless DMX

Compatible with ADJ RFC remote control (sold separately)

Includes mounting brackets to mount on a wall or set on the ground

Long life LEDs (Rated at 50,000 hrs.)

Very low heat output

Run all night – No duty cycle

Rechargeable Lithium battery life: 6 hours full on (with a full charge); 5 hours charge time

Power Draw: 58W max

Multi-voltage Operation: AC 100V/60Hz - 240V/50Hz

Dimensions (LxWxH): 20" x 6" x 6" / 502 x 150 x 152mm

Weight: 9 lbs. / 4 kg.