American DJ X-MOVE-LED-25R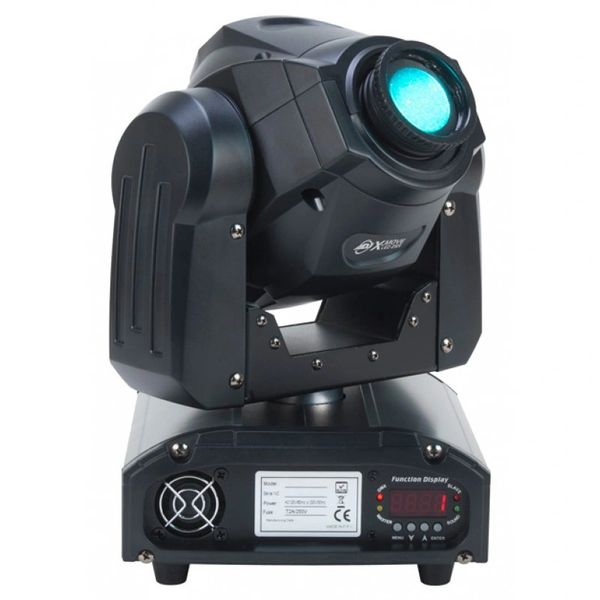 American DJ X-MOVE-LED-25R
It's time to rock the show like a pro with the X-Move LED 25R by ADJ. Compliment any light entertainment system with this lightweight, compact Moving Head at a price that won't break the bank and with a low power draw. With a separate color and interchangeable gobo wheel and a poweful 25 Watt LED, the X-Move 25R has the professional features professionals require. As hot as it will get on the dance floor, with the X-Move LED 25R's high end cooling system you'll never have to worry about it overheating. On top of all that the X-Move LED 25R features a 4-button LED display menu and built-in lighting programs making it easier for you to get set up and get the party rolling. Used in conjunction with the rest of your entertainment system you'll make it a night to remember with the X-Move LED 25R by ADJ, the first in line for exceptional DJ equipment.

Specifications
High powered DMX-512 moving head with a bright 25W CREE white LED

8 colors + white

6 rotating, replaceable gobos + spot

Separate Color & Gobo Wheels

Gobo scroll mode

17-degree beam angle

Auto X-Y repositioning

9 DMX Channels

3 Operational modes: DMX-512, Master/Slave & Sound Active

4-Button menu system LED Display making it easy to navigate

Built-in lighting programs

Gobo Shake effect

Gobo size: 23.8mm (19mm viewable / 0.2mm thickness)

540° pan / 270° tilt (8-bit)

Manual Focus

Shutter: Pulse effect; random strobe slow to fast

Dimming: 0% - 100%

Fan Cooled

Stepper motors with micro stepping

Compatible with American DJ UC3 Series easy-to-use controllers (sold Separately)

Runs extremely cool! - NO Duty Cycles! – Run all night!

Power consumption: 75W

Switchable voltage: (120V/60Hz or 230V/50Hz) - IEC socket

LED Source: 25W CREE White LED (50,000 hour rated)

Dimensions (LxWxH): 8.75" x 8" x 12.75" / 221 x 202 x 320mm

Weight: 14 lbs. / 6.2 kgs.