Antari X-515 1,500W DMX Professional fog machine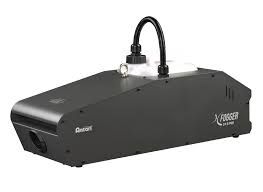 Antari X-515 1,500W DMX Professional fog machine
The Professional Eco-Friendly Fog Solution for High-Density fog with newly-designed on-board DMX software. Incorporating fine-tuned PCB layout, stability becomes standard for all X-PRO Series Fog Machine to enhance the unique mood of lighting.
This professional line of heavy-duty fog machine features the most advanced technology with a number of exceptional components that separate them from all other fog machines available.Both X-510PRO and X-515PRO ensure only the purest, driest white fog is produced to the satisfaction of all demanding industry professionals. The electronic fluid level sensor stops operation in low-fluid situations offering complete protection to the pump and the heater.
The X-PRO Series Foggers are the perfect solution for all intensive effect productions.The entire X-PRO Series also caters to the transportability needs of the touring and rental markets with custom flightcases available for all X-PRO Series Fog Machine.
Specification
» Voltage : U.S. version : 120 Volt
Europe version : 230 Volt
U.K. version : 240 Volt
Japan version : 100 Volt
» Heater : 1,500 W
» Output : 20,000 cu.ft / min
» First Heat-up Time : 8.5 min
» Fluid Consumption Rate : 8.5 min / liter (100% Output)
» Tank Capacity : 6 liter
» Remote Included : X-10PRO Control Module
» Optional Remote : X-30PRO Wireless Control Module
» Optional Accessories : HB-10 Hanging Bracket and Drip Tray , FTA-1 Fog Hose Adaptor for Connecting DNG , FX-515 Flight Case
» Weight : 13.2 Kg
» Dimensions (mm) : L646 W240 H190
» DMX : On board
» Wireless DMX is optional for X-515PRO
» Liquid Used : Antari FLR / FLG Liquid