Focusrite Scarlett Solo MK2 2in/2out USB 2.0 audio interface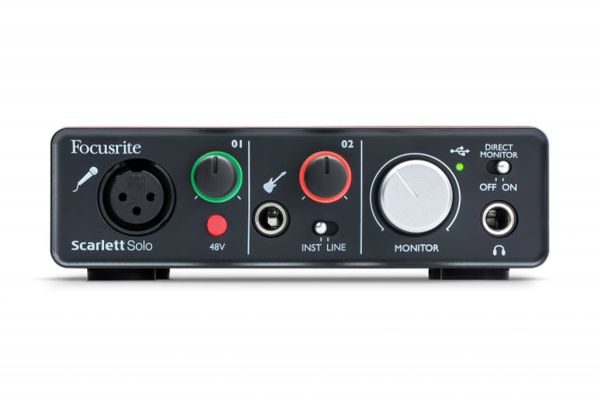 Focusrite Scarlett Solo MK2 2in/2out USB 2.0 audio interface
Scarlett Solo is part of the top selling range of USB audio interfaces in the world. Inside its beautiful and compact aluminium case is a genuine Focusrite microphone preamp, which lets you record with our legendary Scarlett sound.
Sleek, light and tough enough to take whenever you go, Scarlett Solo turns your Mac or PC into a portable recording studio. Whenever inspiration strikes, simply plug in any microphone and instrument, and start making Focusrite quality recordings.
The better your preamp, the better your microphone will sound. Focusrite preamps like the one in Scarlett Solo are considered by many to be the best in the world. They also provide +48V phantom power, so you can use any microphone you like.

Whenever inspiration strikes, plug straight into a high quality DI that minimises the risk of distortion. Unique halos around the gain knobs will stay green when your level is good and turn red if you're too loud, so you can be confident that you're always recording at the right level.

Sleek and lightweight enough to throw into your backpack, the stunning aluminium case is also durable enough to endure life on the road, so you can take it anywhere. Simply plug it into your Mac or PC via USB and start recording, without the need for a bulky power supply.

Precision convertors will transform your live performance into studio-quality 24-bit resolution digital audio, with sample rates of up to 96kHz and an exceptional dynamic range of over 105dB.
Focusrite interfaces are perfect partners for Pro Tools, so Scarlett Solo comes with Pro Tools | First - Focusrite Creative pack, as well as Ableton Live Lite recording software and a suite of software and samples, so you can start recording straight away. As you'd expect, it works flawlessly with all major DAWs on Windows and Mac.

For more details visit: http://us.focusrite.com/usb-audio-interfaces/scarlett-solo