Focusrite Scarlett 2i2 MK2 2in/2out USB 2.0 audio interface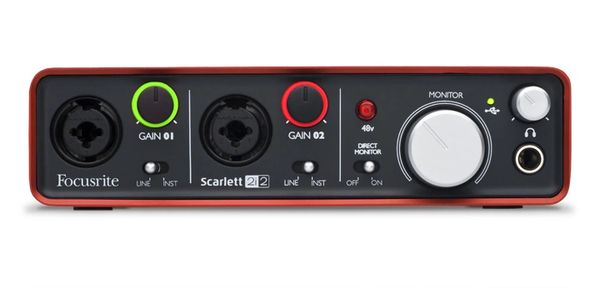 Focusrite Scarlett 2i2 MK2 2in/2out USB 2.0 audio interface
The Scarlett 2i2 is a 2 in / 2 out USB recording interface featuring two award-winning Focusrite preamps. Housed in an attractive anodised aluminium unibody chassis, the interface not only sounds fantastic but looks great too. What's more it's solid enough to take on the road when you travel. The Scarlett 2i2 is much more than just a pretty metal box.

The front panel high quality combination input can be used to connect line and instrument level signals as well as microphones. This makes it perfect for recording the output of a synthesizer or stage piano, whilst at the flick of a switch you can cater for the output of an electric or acoustic guitar.

Unique halo indicators let you know that you've got a good signal level for recording. Red means that your signal is clipping, and that you should reduce the gain. The halo will momentarily turn amber as the level returns to a healthy level, at which point it will turn green.

A large monitor dial provides a tactile control for the volume of your speakers, whilst a high quality headphone amp provides a clean yet loud signal to headphones connected to the front panel socket. The direct monitor switch routes audio directly from the inputs to both the headphone and speaker outputs. This allows you to monitor the incoming signal with zero-latency.

Focusrite interfaces are the perfect partner for Pro Tools, so Scarlett 2i2 comes with Pro Tools | First recording software, as well as Ableton Live Lite and a suite of software and samples so you can start recording straight away. As you'd expect, it works flawlessly with all major DAWs on Mac and PC.

For more details visit: http://us.focusrite.com/usb-audio-interfaces/scarlett-2i2