Fostex PM0.3 / PM0.3d Active Speaker System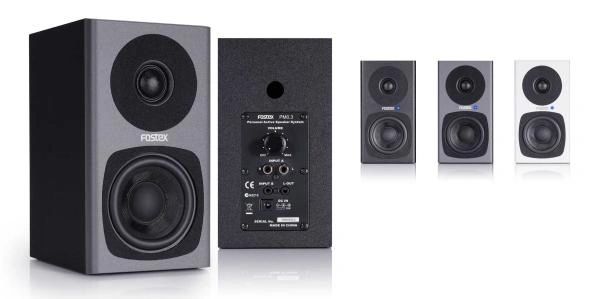 Fostex PM0.3 / PM0.3d Active Speaker System
The newPM0.3 is the Fostex's first 3" 2-way powered monitor speaker system.
The combination of the dedicated 3" LF and 3/4" HF drivers together with the built-in D-class power amplifier delivers unparalleled audio performance in this class. The PM0.3, inheriting the familiar cosmetic design of the best selling PM-series, is ideal for space-limited desktop home studio, PC audio and MP3 reproduction.
In Detail
Newly designed 3" fiber glass cone woofer and 3/4" silk dome tweeter drivers

Quality matt finished front baffle with a choice of three colors (black, gray and white)

Wooden enclosure box for best audio performance

Compact yet highly efficient built-in digital amplifier of 15W each channel

 2 x inputs; RCA (L,R) and stereo mini
- See more at: http://www.fostexinternational.com/docs/products/PM0.3__PM0.3d.shtml#sthash.ov9Yopme.dpuf

**Price is per pair; 2 speakers in one box.