Hall Research HDMI Over HDBaseT Lite Kit (Sender & Receiver)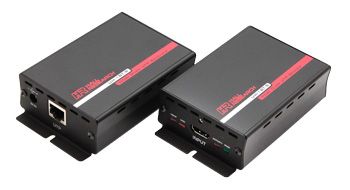 Hall Research HDMI Over HDBaseT Lite Kit (Sender & Receiver)
The Mini-Cat® brand UH-1BT extends any HDMI or single link DVI video signal up to 230 ft over inexpensive UTP (Cat6) cable using HDBaseT™Class B (HDBaseT-Lite™) technology. Video and embedded audio signals are transmitted without any compression to the remote for a 100% identical reproduction.
The UH-1BT is comprised of a local Sender (transmitter) and a remote Receiver. Each is constructed as a compact metal enclosure with mounting provision and feature locking HDMI connectors. The extender is HDCP compliant with pass-thru EDID and supports embedded audio, Full HD, deep color (1080p@60Hz @ 48 bits/pixel), and 3D video. The UH-1BT can also extend 4Kx2K video that is gaining popularity. Secondary data channels such as: DDC, CEC, and HPD (Hot-Plug Detect) are also transparently extended. Plug and play operation with no user adjustments offer a truly trouble-free experience.
As a leader in the field of video over twisted pair extension, Hall Research's Mini-Cat® brand has set a new standard in the industry for unsurpassed quality and reliability.