SGM Pilot-2000 Programmable Lighting Controller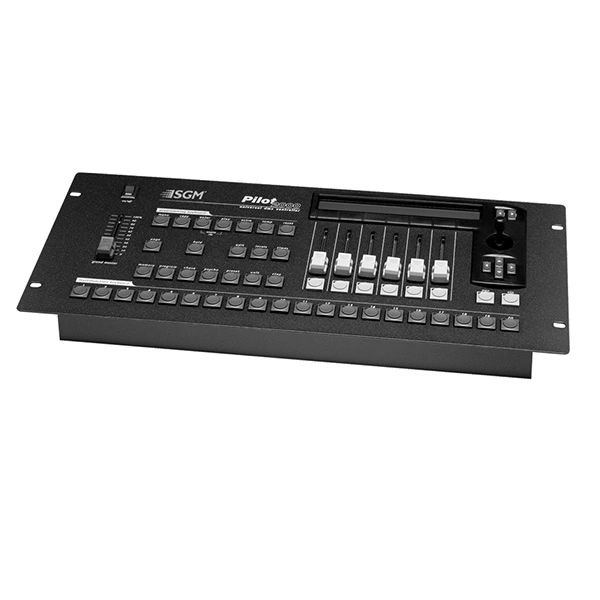 SGM Pilot-2000 Programmable Lighting Controller
Pilot 2000 is a universal DMX controller able to control up to 20 'intelligent' units (moving head fixtures, scanners, colour-changers, dimmers, etc.) with a maximum of 36 channels each, for a total of 512 DMX channels.

Pilot 2000 is mounted in a 4-unit rack module, which enables installation or handy desktop use. Resident software (including personalities, programs, etc.) can be uploaded/downloaded and saved via RS232.

Pilot 2000 is an extremely versatile controller, suited to a vast range of applications: from concerts to theatres, clubs to television studios, from small to large show events.

Features
Universal DMX controller for 40 units with a maximum of 36 channels each.
Constant monitoring of output parameters thanks to a large rear-lit display.
Using the scroll function, operators can control blocks of 6 channels at a time.
Thanks to the (editable) on-board libraries, it is possible to assign functions to the faders at will: physical and logic channels are independent.
The section dedicated to automated fixtures (scanners and moving head units) has a dual coordinate system: absolute and relative. This ensures perfect fixture positioning.
Pilot 2000 is a standard 19" rack-mounting unit (5 units), but can also be used as a table-top console, thanks to the shape of its chassis.
Possibility of storing data and memories on PC.



Connections
DMX in/out connector, SMPTE socket for sync memory change independent adjustment of crossfade time between presets or scenes.
Audio input and built-in microphone for music sync functions.
MIDI in/thru/out sockets.
Jack socket for up/down pedal control memory changes.
RS 232.
Auxiliary AL4 power supply included.

Programming and Control
512 DMX channels to control
- 192 channels for dimmers.
- 40 channels for intelligent units.
40 programs to control intelligent units with 40 steps each.
40 chase for a sequential control of dimmers with 40 steps each.
40 psycho to control dimmers music intensity.
40 preset (light scenes).

Hardware
6 freely programmable faders.
10 keys for direct access to playback and programming functions.
20 keys for direct access to playback registers
4 encoder wheels for controlling attributes during programming and control of effects during playback.
Grand Master fader + DBO key.
Jog Ball for PAN and TILT control with "locks" and "fine" buttons.
Built-microphone.
2 flexible USB LED lights.
Universal 82-265 Volt onboard switching power supply.

Dimensions
(HxWxD) 13.5 x 50.3 x 35.8 cm
Weight: 4Kg