SGM Pilot-3000 Lighting Desk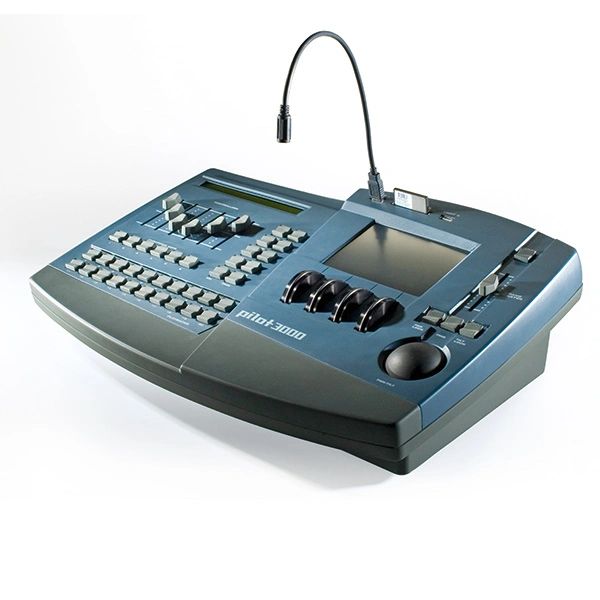 SGM Pilot-3000 Lighting Desk
Pilot 3000 is a sophisticated DMX controller ideal for controlling large and small lighting systems.

Pilot 3000 can control up to 1024 DMX channels via two independent DMX outputs. Using the Pilot 3000 is simplified by the logical layout of its controls and the use of sophisticated facilities, including: Colour TFT touch screen for direct access to the functions displayed; 4 encoder wheels for controlling the parameters of the Palettes during editing, programming or for assigning values in the program's various screens; 1" Jog Ball for Pan/Tilt.

The on-board software and comprehensive connectors enable major communication protocols (DMX 512, MIDI, SMPTE) to be handled. Pilot 3000 is connected to PCs via a USB port.

Features
1024 DMX channels.
2 DMX Out lines
1 DMX In line (independent).
20 keys for direct access to Playbacks.
Shape Engine
Personality library
1024 Channels on 2 independent DMX 521 lines for the control of either automated fixtures or dimmers.
Playback of a maximum of 20 cue-lists simultaneously.
Advanced shape engine.
Updateable personality library.
6 families of Palettes for rapid control of the automated fixtures's functions.
Cues: max 999 for each playback register.
Maximum number of cues storable per show: 6000
64 MB outboard memory on compact flash card.

Connections
2 DMX Out
1 DMX In
Aux In (Pedal In)
SMPTE In
MIDI In/Out/Thru
Audio In
USB
Two USB to light sockets
Connector for Compact Flash drive

Programming and Control
1024 freely configurable DMX channels for any number of dimmer channels and/or automated fixtures.
Powerful GUI for easy programming and control of a maximum of 400 Cue-lists, each with a maximum od 999 Cues.
Rapid access to all functions by means of a touch screen monitor with 320X240 resolution.
6 completely configurable scene control faders.

Hardware
6 freely programmable faders.
10 keys for direct access to playback and programming functions.
20 keys for direct access to playback regusters
4 encoder wheels for controlling attributes during programming and control of effects during playback.
Grand Master fader + DBO key.
Jog Ball for PAN and TILT control with "locks" and "fine" buttons.
Built-microphone.
2 flexible USB LED lights.
Universal 82-265 Volt onboard switching power supply.

Dimensions
(HxWxD) 13.5 x 50.3 x 35.8 cm
Weight: 4Kg